Wisdom Teeth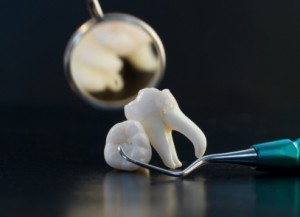 We are often asked why is it necessary to have wisdom teeth removed? Simply put, most mouths don't have enough room for wisdom teeth.  Your wisdom teeth, or third molars, are the last permanent teeth to emerge into your mouth.  This usually occurs during your late teens to early twenties.  Correctly positioned, healthy third molars can last a lifetime if properly cared for.  Unfortunately, in most cases, wisdom teeth become impacted, trapped beneath the gum, bone and adjacent teeth. These teeth may also only partially erupt causing painful swollen gums.  Impacted wisdom teeth may damage adjacent teeth, become infected, and develop cavities.
Following dental school, Dr. Haslam received advanced training in the surgical removal of impacted wisdom teeth at the University of Texas Health Science Center in San Antonio. During this 2 year General Practice Residency he completed comprehensive hospital training, including rotations in general anesthesia, IV sedation, oral surgery, internal medicine and the hospital emergency room.
Over the past 20 years Dr. Haslam has safely and successfully removed thousands of wisdom teeth under the comfort of IV conscious sedation.
Regular dental examinations are an important component of monitoring the development of wisdom teeth.  At the appropriate time a panoramic x-ray should be taken to assess the position and maturity of these teeth.  If you have any questions about treatment please give us a call. If you are in pain or discomfort please call us today for an emergency appointment.